My Blog
Posts for: February, 2018
By Thomas E. Newman, DDS
February 17, 2018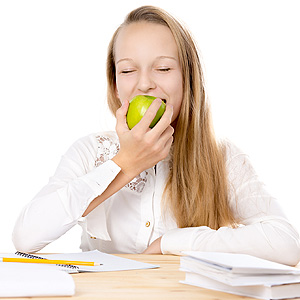 "The Freshman 15" is a popular way of referring to the phenomenon of new college students gaining weight during their freshman year (although the average is less than fifteen pounds). According to research, college students gain weight mainly due to an unhealthy diet and lack of exercise.
If you're experiencing this as a college student, you should also know poor diet and lifestyle choices harm your teeth and gums as well. If you don't want to encounter major dental problems, then you need to make some changes beginning with the same cause for your weight gain: what you eat and drink.
Like the rest of your body, your teeth and gums have the best chance for being healthy when you're eating a balanced, nutritional diet low in added sugar. And it's not just mealtime: constant snacking on sweets not only loads on the calories, it also feeds disease-causing oral bacteria. Sipping on acidic beverages like sodas, sports or energy drinks also increases the levels of acid that can erode tooth enamel.
Some lifestyle habits can also affect oral health. Using tobacco (smoked or smokeless) inhibits your mouth's natural healing properties and makes you more susceptible to dental disease. While it may be cool to get piercings in your lips, cheeks or tongue, the hardware can cause gum recession, chipped teeth and soft tissue cuts susceptible to infection. And unsafe sexual practices increase your risk for contracting the human papilloma virus (HPV16) that's been linked with oral cancer, among other serious health problems.
Last but not least, how you regularly care for your teeth and gums can make the biggest difference of all. You should brush and floss your teeth ideally twice a day to clean away plaque, a thin film of disease-causing bacteria and food particles. And twice-a-year dental cleanings and checkups will round out your prevention efforts against tooth decay or periodontal (gum) disease.
Making your own choices is a rite of passage into adulthood. Making good choices for your teeth and gums will help ensure they remain healthy for a long time to come.
If you would like more information on maintaining dental health during the college years, please contact us or schedule an appointment for a consultation. You can also learn more about this topic by reading the Dear Doctor magazine article "10 Health Tips for College Students."
By Thomas E. Newman, DDS
February 02, 2018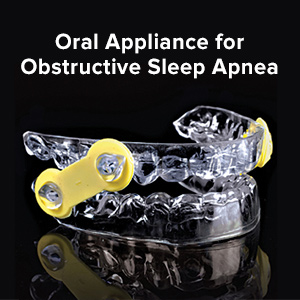 Daily fatigue or complaints of your snoring from family have led you to see your doctor about the problem. After an exam and a test session in a sleep lab, your problem now has a name — obstructive sleep apnea.
This common sleep-related breathing disorder (SRBD) occurs when the soft tissues in the back of the throat over-relax during sleep. The relaxed tissues obstruct air flow to the trachea (windpipe) and cause "apnea," where you cease to breathe. The lack of oxygen causes you to wake, even for a micro-second, to begin breathing again. This may occur multiple times throughout the night, diminishing the quality of your sleep and leading not only to drowsiness and daily fatigue but also contribute to cardiovascular disease or other systemic conditions.
The most effective treatment for sleep apnea is the use of a Continuous Positive Airway Pressure (CPAP) machine while you sleep. The machine delivers pressurized air to a face mask you wear while you sleep; the additional pressure keeps the airway open. However, a CPAP machine does have a few disadvantages, including discomfort while attached to the machine, nasal congestion and dryness, or claustrophobia. These effects can be so pronounced for some patients, they're unable to adjust themselves to the machine.
If you have mild to moderate sleep apnea, there may be an alternative — a custom-fitted oral appliance we manufacture for you to wear in your mouth while you sleep. The appliance pulls the lower jaw forward resulting in a wider opening of the airway. In addition to being less cumbersome than a CPAP mask, an oral appliance is easier to wear, compact in size for easy travel and doesn't require electricity.
While an oral appliance is an effective alternative to a CPAP machine for many patients, it does have a few disadvantages including problems with saliva flow (too much or too little), muscle or teeth soreness and minor tooth or jaw movement. Still, an oral appliance might be the right solution to relieve your sleep apnea over the long-term.
If you would like more information on treatments for sleep apnea, please contact us or schedule an appointment for a consultation. You can also learn more about this topic by reading the Dear Doctor magazine articles "Sleep Disorders & Dentistry" and "Sleep Apnea FAQs."